RESOURCES
Resources and information about CMMI's ACO REACH Model
The Center for Medicare and Medicaid Innovation (CMMI) Resources
Information published by CMMI about Accountable Care Organization Realizing Equity, Access, and Community Health (ACO REACH)
COMPARISON CHART
How does CMMI's ACO REACH Model compare to its Global & Professional Direct Contracting Model?
View a detailed side-by-side comparison chart of the ACO REACH Model and the Direct Contracting Model released by the Center for Medicare & Medicaid Innovation (the Innovation Center) with CMS.
VIEW COMPARISON
ACO REACH MODEL GOALS
Understand CMMI's goals for the ACO REACH Model, evolving from Direct Contracting
VIEW GOALS
REQUEST FOR INFORMATION
Dive into the details of CMMI's Request for Applications for the ACO REACH Model
VIEW RFA DOCUMENT
PROGRAM INTEGRITY
Program Integrity, Eligibility and Compliance in ACO REACH
On March 24th, the Center for Medicare and Medicaid Innovation (CMMI) released a summary overview of program integrity efforts under the Accountable Care Organization Realizing Equity, Access, and Community Health (ACO REACH) Model.

The document outlines vetting, monitoring, auditing, and analytics activities CMMI intends to perform. In particular, CMMI intends to refer potential violations of federal law, including any applications that might implicate antitrust law, to appropriate federal agencies.
VIEW PROGRAM INTEGRITY DOCUMENT
Resources on Direct Contracting
CMMI's upcoming transition to ACO REACH from Direct Contracting marks a move to greater emphasis on health equity, provider-led organizations, and protections for beneficiaries. However, many fundamental mechanics of how the model itself works will remain the same. Here are resources to help you understand how Direct Contracting — and ACO REACH — works.
LEARN
Understand how Direct Contracting — and ACO REACH — drive financial impact for primary care
FREE GUIDE
Get our free guide on Direct Contracting
An overview of what Direct Contracting is, how Pearl Health is positioned to support your practice, and Pearl's broader vision for building an ecosystem to enable value-based success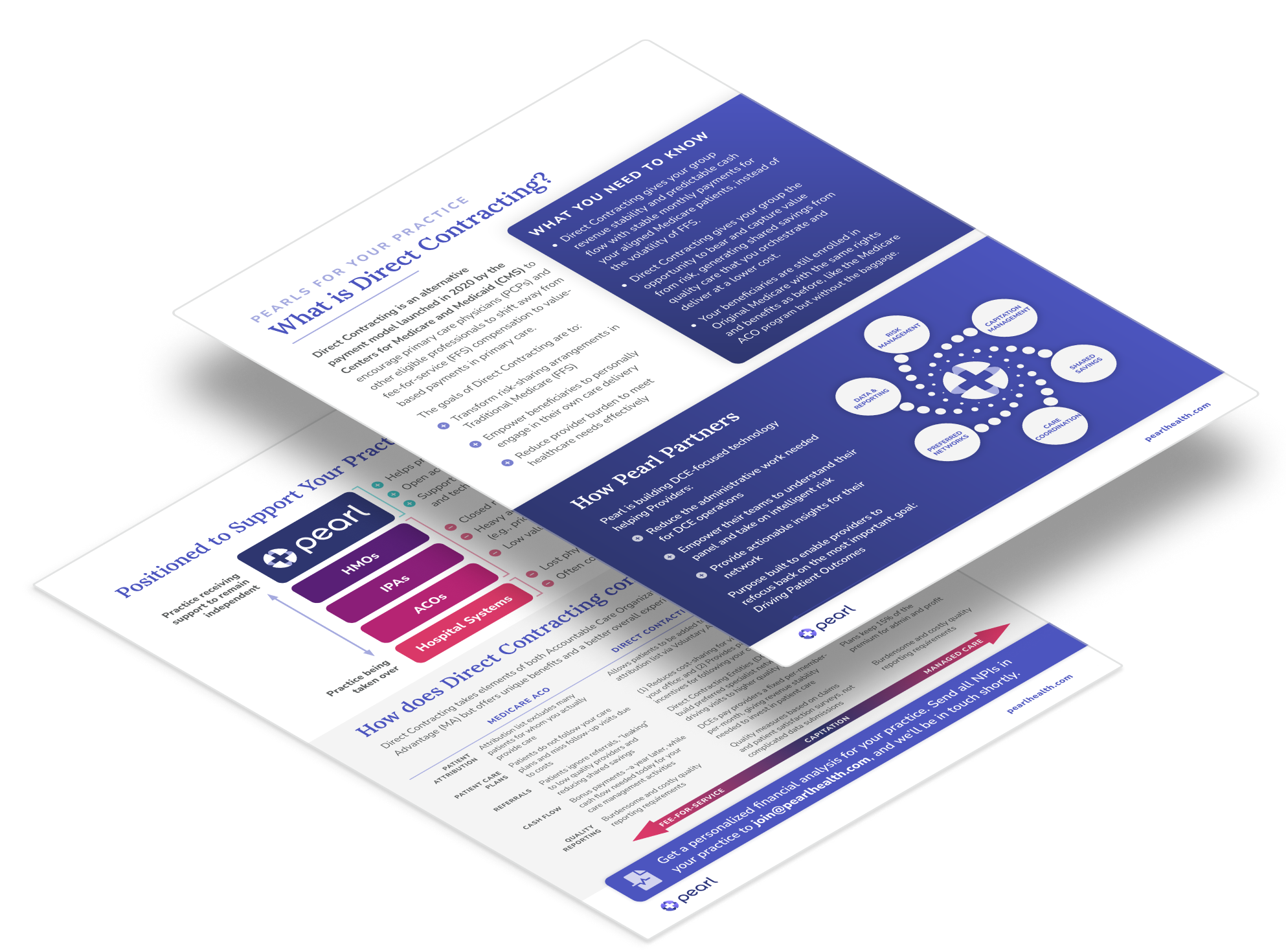 ACO REACH News from around the Web
Curated news, information, and updates about CMMI's ACO Reach Model
Get support in navigating and succeeding in Medicare's ACO REACH Model.